Family Locator
Parental Control App
OurPact's family locator lets parents quickly locate family members and devices to receive instant location alerts. Family Locator by OurPact is the solution your family has been waiting for.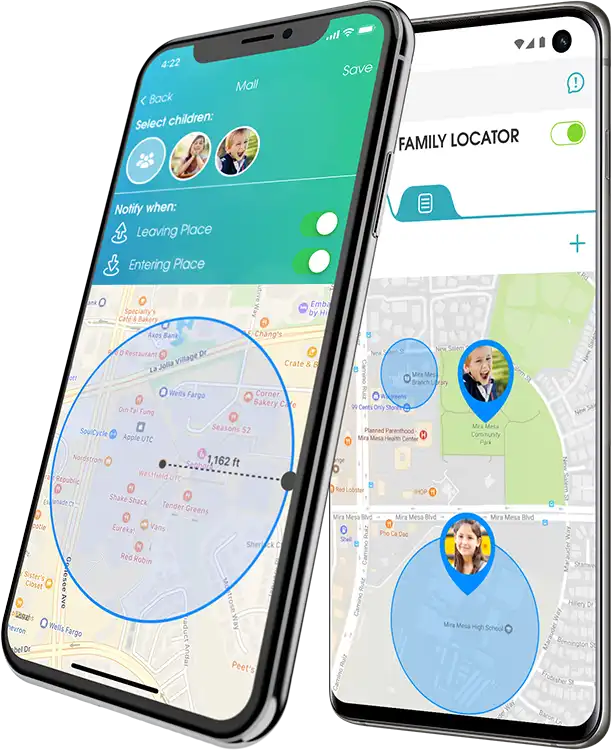 Location History and Breadcrumb Trails
Right On Your Phone
OurPact's Family Locator tool allows parents to keep track of their kids 24 hours a day.  But it's the dynamic Location History feature that really sets this app apart and lets parents gain a true understanding of exactly where their kids were at on any given day and for how long.
•  Why did it take your kids so long to get home from school yesterday?
•  Did your son make it to soccer practice on time?
•  How long were my kids at the mall this weekend?
Well now you don't have to nag your kids with a million questions about their whereabouts. OurPact not only shows you exactly where they've been, but it tells you how long they were at every given stop throughout the day.
Our proprietary Breadcrumb trail not only draws the specific route your child took while they were outside the home, but it also details exactly how long they were at each stop in addition to when they arrived and when they left. So now, you'll not only know if your kids were late to school, but you'll know exactly how late they were. We call this feature the "Breadcrumb" tool because it's like your kids literally were leaving digital breadcrumbs with every step they took throughout the day along the exact route they took.
This robust location history feature is a true game-changer for working parents who don't have the luxury of monitoring their kids throughout the day. Now, they can track their kids, their routes, and their stops in detail right from the convenience of their own phone around the clock. Whether it's keeping tabs on them on a Friday night out with friends, where they're at on their way home from practice or simply seeing which friends' house they're at after school, now you have the tool and intel you need to ensure your kids are safe and where they should be.
OurPact's Family Locator brings an end to:
Back-and-forth texts and calls coordinating pickups
Worrying about your children's safety and whereabouts
Frantic searches for lost devices (usually shoved under a sofa pillow!)
Nagging your children to see if they've arrived safely at their destination
We recommend creating Places for home, your child's school, family/friend's houses, and any other location your child spends time frequently. We'll take it from there.
Apple Parental Controls
OurPact's parental control screen time monitoring app & family locator can be accessed from any shared family Apple device.
Android Parental Controls
OurPact for Android works with any Android smartphone or tablet.